CHECK UNDER THE HOOD APPETIZERS
Hot and Saucy Salsa and Tortilla Chips $4.99
Redd's Notorious Guacamole with Chips $ 8.99
Fill'er Up Son Nacho's: Unleaded – Shredded Cheese Nachos with Salsa $7.99
High Octane – Shredded Cheese, Black Beans, Beef Brisket, Jalapenos, Tomatoes,
Sour Cream, Guacamole & Salsa $14.99
Devils on Horseback – Bacon wrapped, garlic stuffed dates $9.99
Prosciutto Wrapped Shrimp Gulf shrimp and red bell peppers $11.99
OIL CHANGE
All Salads offered with Chicken $3.49 or Shrimp $5.99
Garden Salad Small $5.99, Large $8.99
Mixed lettuce, tomatoes, cucumbers, carrots and red onions
Caesar Salad Small $7.50, Large 10.99
Classic Wedge $11.99
Iceberg Lettuce with blue cheese crumbles and dressing, bacon, and tomatoes.
Fried Green Tomato BLT $12.99
Applewood smoked bacon with siracha mayo on a kaiser roll, and choice of 1 side.
Jalapeno Popper Burger $10.99
Burger topped with cream cheese, and pickled jalapenos, and choice of 1 side dish.
Smoked Gouda and Bacon Mac and Cheese Small $8.99, Large $12.99
Brisket Taco's $14.99 3 sweet and spicy beef tacos on flour tortilla with corn and cucumber salad.
ENGINE OVERHAUL DINNER
All entrees served with dinner roll and choice of 2 sides
Paul's Pan Fried Pork Chop $15.99, two chops $18.99
Spicy seasoned and pan fried. Add garlic and parsley compound butter for $2.
Southern Fried Chicken Breast $15.99
Lightly breaded in seasoned flour and panko, served with gravy.
Moo Moo Brisket $18.99
Slow cooked for 12 hours in beef broth and beer with southwestern spices, with gravy.
B-B-Q Back Ribs, short rack $17.99, long rack $25.99
Sweet and spicy dry rub, slow roasted in cola, served with tangy, spicy bbq sauce.
Gotta Have It Meatloaf $15.99
Yes it has onions, no, it doesn't have ketchup. Served with gravy.
Shared plate $3 for oil change or engine overhaul.
FILTERS AND BELTS – SIDES – $3
Roasted Red Potatoes, Roasted Root Veggies, Fresh Veggies, Sweet Potato Fries, Root Veggie Chips, and Corn and Cucumber Salad. Substitute small salad for $3 more.
Double Chocolate Brownie served with Ice Cream. $7.99
Gratuity will be added to parties of 6 or more
One check per table
Menu and Schedule subject to change without notice
JOIN OUR VIP CLUB, WWW.REDDSFUEL.COM!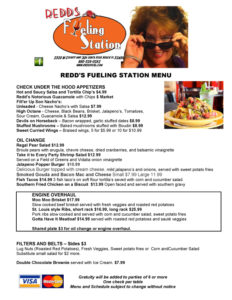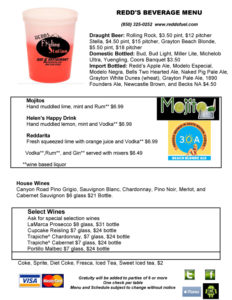 REDD'S BEVERAGE MENU
(850) 325-0252  www.reddsfuel.com 
Draught Beer: Rolling Rock, $3.50 pint, $12 pitcher
Stella, $4.50 pint, $15 pitcher, Grayton Beach Blonde, $5.50 pint, $18 pitcher
Domestic Bottled: Bud, Bud Light, Miller Lite, Michelob Ultra, Yuengling, Coors Banquet $3.50
Import Bottled: Redd's Apple Ale, Modelo Especial, Modelo Negra, Bells Two Hearted Ale, Naked Pig Pale Ale, Grayton White Dunes (wheat), Grayton Pale Ale, 1890        Founders Ale, Newcastle Brown, and Becks NA $4.50
Mojitos
Hand muddled lime, mint and Rum** $6.99Helen's Happy Drink
Hand muddled lemon, mint and Vodka** $6.99

Reddarita
Fresh squeezed lime with orange juice and Vodka** $6.99

Vodka**,Rum**, and Gin** served with mixers $6.49 **wine based
 House Wines Canyon Road Pino Grigio, Sauvignon Blanc, H
Select Wines
Ask for special selection wines
        LaMarca Prosecco $8 glass, $31 bottle
Cupcake Reisling $7 glass, $24 bottle
Trapiche^ Chardonnay, $7 glass, $24 bottle          Trapiche^ Cabernet $7 glass, $24 bottle          Portillo Malbec $7 glass, $24 bottle
Coke, Sprite, Diet Coke, Fresca, Iced Tea, Sweet Iced tea, $2
Gratuity will be added to parties of 6 or more
One check per table
Menu and Schedule subject to change without notice