OPEN 5pm- 10pm Tuesday-Saturday – Limited Seating !! **Kitchen open til 9pm ** – Redd Sings until 9.45pm on nights with a "T" –Reservations RECOMMENDED CALL 850-325-0252. Live Music Wednesdays and Fridays.
Due to no shows, a reservation guarantee deposit may be required, credited to final check .
Fun and Funky Apps
Hot and Saucy Salsa and Tortilla Chips $7.99
Redd's Notorious Guacamole with Chips $ 10.99
Fill'er Up Son Nacho's: Unleaded – Shredded Cheese Nachos with Salsa $10.99
High Octane – Shredded Cheese, Beef Brisket, Jalapenos, Tomatoes,
Sour Cream, Green Onions, Guacamole & Salsa. Sub chicken for Brisket $17.99
Devils on Horseback – Bacon wrapped, garlic stuffed dates with Blackberry reduction $11.99
House Made Sweet Potato Chips – sweet and spicy seasoning, French onion dip $6.99
Crispy Brussels Sprouts – tossed in balsamic vinaigrette, cashews and bacon $10.99
Wings, Buffalo or Sweet Thai Chili – 6 large chicken wings, $12.99
Salads and Burgers
Garden Salad Small $7.99, Large $11.99
Spring mix, tomatoes, cucumbers, carrots, radishes, red onions, and shaved parmesan
Add Avocado $3.00. Add Chicken $6.99. Shrimp $8.49
Hand Pattied Beef Burger $12.99
Served with lettuce and tomato and a choice of 1 side dish.
Add cheese, choice of American, Cheddar, Provolone, Swiss, pepperjack or grilled onion for + $2. bacon or avocado for + $3. Pickles or onion + .50
Substitute  Grilled Chicken + $2.00
Jalapeno Popper Burger $13.99
Burger topped with cream cheese, and pickled jalapenos, and choice of 1 side dish.
Sub Grilled Chicken $2.00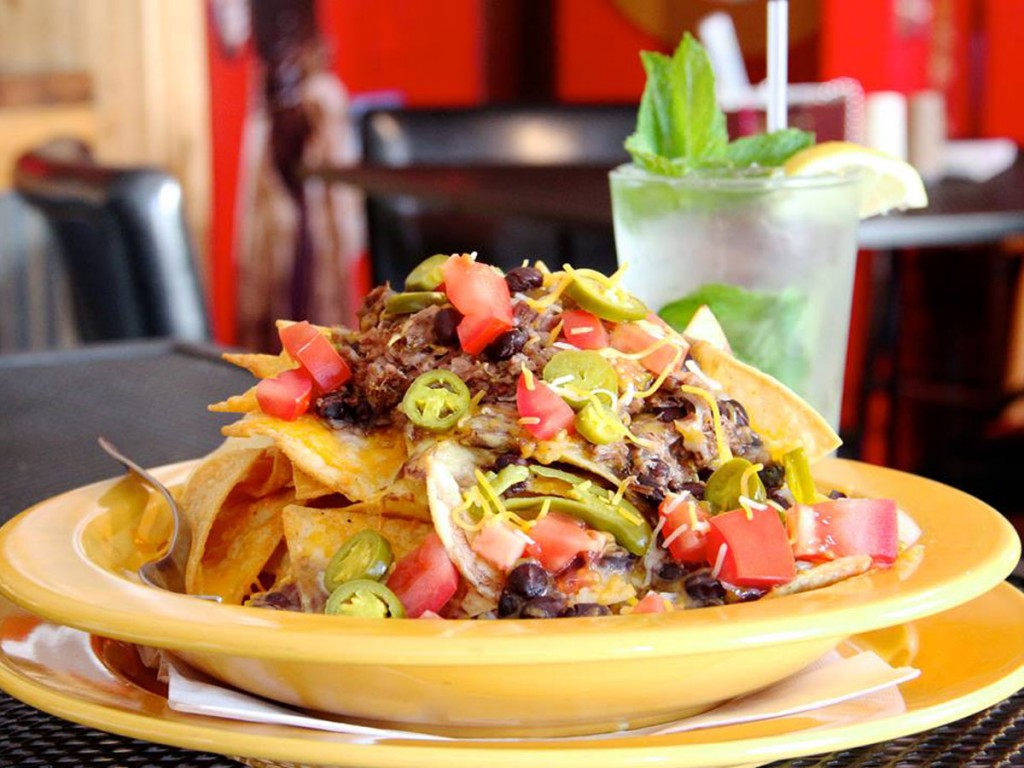 Weekly Entree Specials
Tuesday Bruschetta BLT with one side, $14.99
Four Five Six Wednesdays $4 Stella, $5 House Wines, $6 6 Wings.
Wings $1.00 all night, minimum order 6.
Thursday BBQ Ribs, short $19.99, long $28.99 choose 2 sides
Sweet and spicy dry rub, slow cooked and lightly smoked in cola bath
Friday Fish and Chips with Slaw $19.99
Beer battered cod and hand cut steak fries, house made slaw and tartar sauce.
Saturday Chefs Choice- $Mrkt.
Share plate for Salads, Burgers or Entree specials add $4.00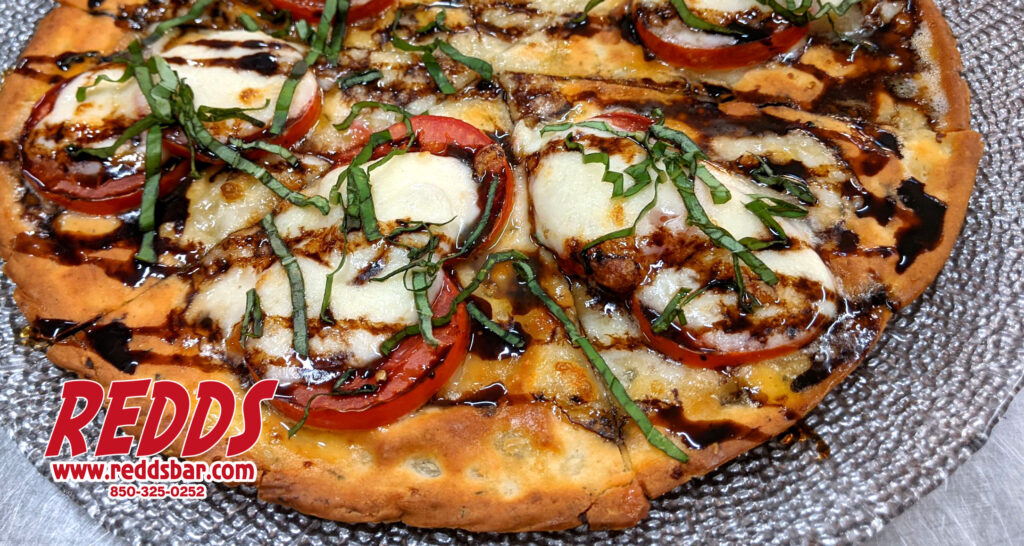 Redd's Cauliflower Crust Specialty Pizza
Popper Pizza
Alfredo sauce, bacon, jalapeno's, cream cheese. $19.99
Buffalo Chicken
Buffalo sauce, grilled chicken, tomatoes, onions, shredded mozzarella, and topped with ranch dressing and blue cheese crumbles. $21.99
Bacon Cheese Burger
Marinara sauce, ground beef, onion, tomato, mixed shredded cheeses, and topped with crumbled bacon $22.99
Caprese
Olive oil, fresh mozzarella, tomato, shredded mozzarella, topped with fresh basil and balsamic reduction $18.99
Chicken Alfredo
Alfredo sauce, Italian chicken sausage, and shredded mozzarella $20.99
Veggie
Alfredo sauce, shredded mozzarella, onion, tomatoes, sweet peppers, and mushrooms. $18.99
Classic Pepperoni
Marinara sauce, shredded mozzarella, and pepperoni $19.99
Meat Lovers
Marinara, shredded mozz, bacon, chicken sausage, pepperoni, and ground beef $25.99
Build Your Own
Cheese Marinara sauce with shredded Mozzarella and Parmisian $15.99
ADD Bacon, Pepperoni, or Chicken Sausage $4.00
or ADD Grilled Chicken or Shredded Brisket $6.00
Or ADD Black Olives, Onions, Jalapenos, Mushrooms, Jalapeno's, or Extra Cheese $2.00
Thank you for your patronage!
Reservations recommended for dinner parties of 4 or more.
Side Choices $3.99
Fresh Veggies, Steak Fries, Corn & Cucumber Salad, House Made Sweet Potato chips, and Crispy Sprouts. Substitute small salad $4.00
Something Sweet
Caramelized Seasonal Fruit served with ice cream. $12.99
Key Lime Pie served with whipped cream. $11.99
"Consuming raw or undercooked meats, poultry, seafood, shellfish, or eggs may increase your risk of foodborne illness"
Redds Pub Beverages
(850) 325-0252 www.reddsbar.com
Draught Beer: Stella, $6.50 pint, $23 pitcher, Oyster City Mangrove Pale Ale and Back 40 Truck Stop Honey, $7.50 pint, $26 pitcher
Domestic Bottled: Bud, Bud Light, Miller Lite, Michelob Ultra, Yuengling, Coors Banquet $4.50
Becks N/A $4.50 Cans: PBR, $3.50
High Noon Various Flavors. $5.50
Cappricio Agave Paloma seltzer $5.50
Import and Craft Bottled: Modelo Especial, Modelo Negra, Corona Light, $5.50
Cans:OC Hooter Brown, Goat Island Peace Love & Hippiweizen Wheat Beer, Wicked Weed Coastal Love IPA $5.50, Idyll Hounds Divide and Conquer IPA
Mojitos
Hand muddled lime, mint and Rum** $7.99
Helen's Happy Drink
Hand muddled lemon, mint and Vodka** $7.99
Reddarita
Hand muddled lime with orange juice and Vodka** $7.99
Southern Comfort Old Fashioned ** $7.99 Fireball Shooter** $4.00
Moscow Mule** $7.99
White Russian ** $7.99
Vodka** and Rum** Southern Comfort** or Fireball** served with mixers $7.49
**wine or malt based liquors
House Wines
Canyon Road Pinot Grigio, Sauvignon Blanc, Chardonnay, Pinot Noir, Merlot, and Cabernet Sauvignon $7.00 glass – $26 Bottle. Corkage fee $15Select Wines
Prosecco Brut Sparkling, Italy $8 glass, $31 bottle
Cupcake Riesling $8 glass, $31 bottle
Prophecy Sauvignon Blanc, "High Priestess" $8 glass, $31 bottle
Prophecy Rose, "Vin de France" $8 glass, $31 bottle
Prophecy Pinot Noir, "The Traveler" $8 glass, $31 bottle
Prophecy Red Blend, "The Lovers" $8 glass, $31 bottle
Sparkling Moscato $8 glass $31 bottle
Ask your server for additional wine and beer selections.
Coke, Sprite, Diet Coke, Fresca, Lemonade, Iced Tea, Sweet Tea Dr. Pepper, Bottled H2O $3.00
Gratuity may be added for party of 6 or more – One check per table